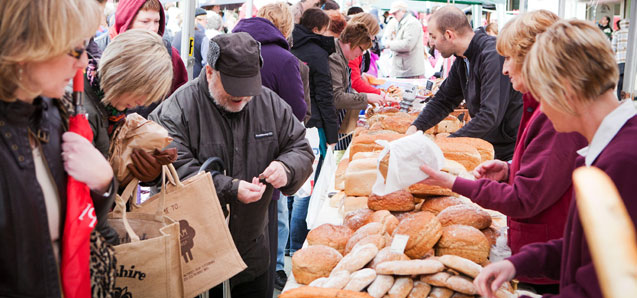 This year we are expanding the Market to 2 days and it forms part of another brand new event, the Brighouse Canal and Music Festival on Saturday 19th and Sunday 20th August and is sure to be another family, fun weekend in Brighouse.
For more information about the Canal Festival please visit www.brighousecanalfestival.co.uk
The Market is on from 10am – 5pm on Saturday and from 10am – 4pm on Sunday.
Over 70 stalls transform Brighouse Town Centre into an extravaganza of foods and crafts, giving you a great opportunity to support all the amazing local producers from the surrounding area.
The award winning market regularly attracts over 30,000 visitors who enjoy a great day out. With a whole host of street food on offer, whether it's a traditional hog roast or a taste of the Caribbean, there is something to suit every palate, all are made locally and what better time to sample some delicious locally made beer or delicious temperance drinks.
If you want to stock up on some great locally made food then there is no better place, from breads to cakes and cheese to chutneys then the Brighouse Summer Market has the lot and gives you a great opportunity  to talk to all these local producers about their food.
John Buxton of Ryecorn Wholefoods in Brighouse, one of the event organisers comments, "It's wonderful to see how far we've come since holding our first Market in 2012 with only 25 stalls, to now having one of the best Local Produce Markets in West Yorkshire. Visitors have really embraced the Market and it's been amazing to discover all the small local producers that are right on our doorstep and see them proudly displaying their products at our Market"
Over 70 speciality, locally produced, food, drink and craft stalls will take up residence over the weekend, right across Brighouse Town Centre. From artisan breads and craft cheeses to fresh fruit and vegetables and sock monkeys to soap and with unique street food you'll be spoilt for choice. You'll need to spend the weekend in town just to experience everything, in fact there's so much choice you'll need to bring plenty of bags, or a strong friend, to carry all your goodies home with you afterwards!
With great live music, real ale and family friendly entertainment completing the picture, you'll never want to leave.